When the Kšnigsbergradio came to the farm
by
Svenn Martinsen
Revised edition September 24th, 2012<![if !supportFootnotes]>[1]<![endif]>
If you come to NorwayŐs capital city Oslo, and take the subway line no.2 going eastwards to EllingsrudŒsen, and then go off at Tveita station, youŐll be in the middle of a large suburban center, typical of many European countries.
<![if !vml]>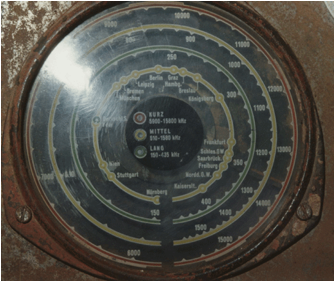 <![endif]>
Illustration: Map of Tveita and surrounding areas.(Source: Oslo Sporveier)
Most of the large number of people going through the mall every day wonŐt have the slightest idea that just behind the centre, a very strange radio station was operated by the German Occupation Forces during the Second World War.
<![if !vml]>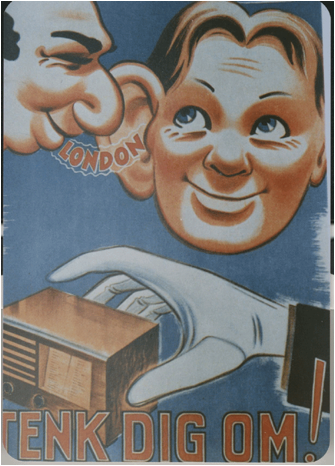 <![endif]>
Picture: Tveita today. The three large blocks, each 40 metres high, a primary school, a high school and a football field now occupy the site of the radio station that once was there. The three antenna towers, 60 metres high, were placed near the end of the southernmost block.
By kind permission from the photographer: Bjżrn H. Syversen, Groruddalen historielag.Š E-mail: bhsy(at)online.no
It was one of 23 mobile German broadcast stations spread across Europe, 22 in trucks and 1 in a train. The station we are dealing with in this essay was called Sender L or Transmitter L.<![if !supportFootnotes]>[2]<![endif]> Previously it was used in Rovaniemi in Finland, operating as Laplandsender.
Even if the station seems to have been mothballed after the Nazi regime was conquered and peace came to the European War Theatre, it was in existence all of summer 1945, and a smiling German Military Station Manager even proudly received foreign journalists pointing machine guns at them!
This then is what is known from several sources so far of the story of the Kšnigsbergradio at Tveten farm.
Source 1. A Crystal receiver in the loft. FromÓGroruddalsungdom i krigstidÓ, p.109. <![if !supportFootnotes]>[3]<![endif]> By kind permission from the author: Bjżrn H. Syversen, Groruddalen historielag.Š E-mail: bhsy(at)online.no
Karl-Henrik Amundsen, a former employŽe of Telenor has told about a German-controlled radio station operating in Oslo, Norway possibly from as early as 1942, when he was 15 years old.
This was not identical to the regular Oslo LKO Longwave station at nearby Lambertseter, operating on 260 kHz, also in German(ÓDer Osloer senderÓ) and Nazi Government hands at the time. The site was heavily guarded, and also had been equipped with jamming equipment.<![if !supportFootnotes]>[4]<![endif]>
The source received the transmissions on a self-built crystal receiver well hidden in the loft at his home in the village of Godlia. The propaganda transmissions were both in Norwegian and German, but mostly with a lot of dance music. The station identified as Radio Norden or similar.
<![if !vml]>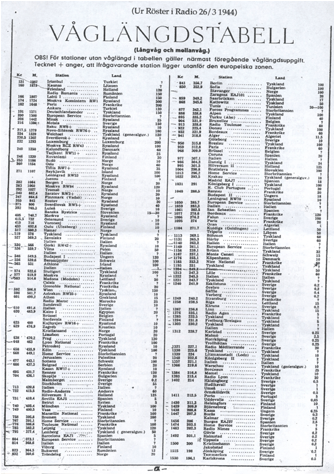 <![endif]>
Picture: Radio listening in the bunker. Typical German radio set for use in the field. Note the dial markers for German stations like the Kšnigsbergradio. This set was found in the Siegfried bunker in Bud.
The Godlia source also says that the German occupation forces established a Medium Wave broadcasting station at a field belonging to Tveten farm. Behind one of the large Tveita blocks today, there still is a large hill, that local people think may hide the remnants of a bunker, containing most of the installation. Visible were the three 60 metres custom-built wooden antenna masts, each wrapped with additional planks painted with two red and two white fields also having an inside ladder. Local kids dared to climb to the top after the Germans had left. As far as Mr.Amundsen can remember, the guy wires were cut and the towers felled relatively soon after Norway regained her freedom in May 1945. I do not know who did this, Milorg(The Resistance) or others, he added.
<![if !vml]>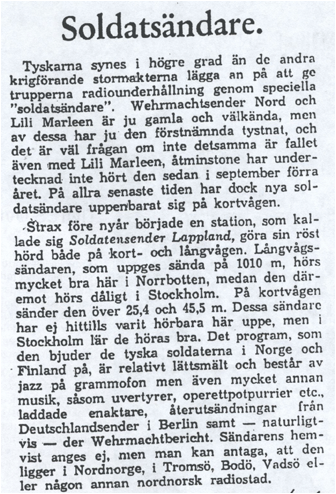 <![endif]>
Picture: Just before the antenna towers on the ground of Tveten farm were demolished in 1945, some quite daring youngsters made it to the top. One of then was Henrik Dedichen, who took this fine picture of what is now Oslo East, seen in the direction of Grefsen Mountain. By kind permission from Groruddalen historielagŠ.
Incidentially, at this time, there were largely open fields between the radio station and GodliaŐs Stordam Road. A maid, living in one of the houses there, had a terrible experience late one night. She was abruptly awakened by a shot, and saw there was a bullet hole in the window. It emerged the Germans had a party, and drunken as they were, had their fun by firing shots in every direction. The bullet was later found in the girlŐs bed.
<![if !vml]>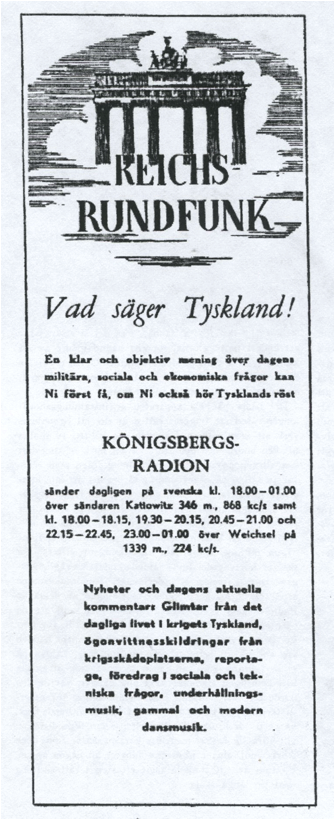 <![endif]>
Picture: Note this typical ÓHave a think about itÓ poster issued by the NorwayŐs Quisling fascist government during WW2 warning against listening to the BBC.
Comment: Norwegians could not listen to the radio at this time without risking their freedom, and most radios had been confiscated since 1941. There were however, quite many illegal listeners, including publishers of illegal papers often listening to the news from ÓLondon RadioÓ(BBC in Norwegian).
<![if !vml]>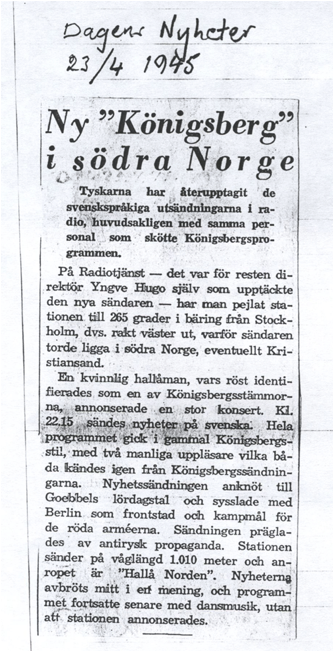 <![endif]>
Source 2. Diary of Sender L (Lappland). From ÓRundfunksender auf RŠdern. Die fahrbaren Rundfunksendeanlagen der Deutschen Reichspost in den Jahren 1932 bis 1945"(2003)<![if !supportFootnotes]>[5]<![endif]> By kind permission from the author: Bernd-Andreas Mšller, Weststrasse 125, D-09116 Chemnitz, Germany.Š Fax: +49 371 36 11 95.
October 28th 1940: Check up by Post Office-RPZ.
January 1941: Measurements on DRP site in Teltow near Berlin; antenna tests on January 16th.
February 1941: Drive from Berlin via Magdeburg; DŸsseldorf; Tilburg; Steenbergen to the Dutch island Schouwen in the Rhein-Schelde Estuary to be used as beacon "Schwerst-Funkfeuer Fritz.Ó
October 1942: Drive to Potsdam. On a train through Denmark and Sweden to Tornio in Lappland.
December 1942: Set up of transmitter 10 km SE of Rovaniemi on the road to Ranua and of studios in a barrack in Korvanniemi, approx. 3 km S of the centre of Rovaniemi.
December15th 1942: Start of test transmissions.
December 24th 1942: At 19:30 hrs the official start of "Soldatensender LapplandÓ; ran by a propaganda unit (PK 680). Transmissions from an outside broadcast vehicle. Antenna between two wooden masts. Power supply from a diesel engine.Three days transmissions, then break to December 31st 1942.
January 10th 1943: Barrack destroyed by fire. At 17:00 hrs transmissions from a temporary studio in a farm house.
February/March 1943:
The ÓLappland-KurierÓ of the PK 680 mentioned these transmission hours: 12:30 to 15:30 and 20:00 (Sundays also19:00) to 23:00 (Saturdays also 24:00) hrs on 297 kHz.
Approx. May 1943: Connection with the Rovaniemi power plant.
End of May 1943: Transmission times on 297kHz now 06:00 (Sundays 07:00) to 08:00; 12:30 to 15:30 and 20:00 (Sundays 19:00) to 23:00 (Saturdays 24:00) hrs.
Beginning of September 1943: According to a schedule "Soldatensender LapplandÓ transmitting 06:30 to 08:00 (Sundays 07:00 to 09:00); 12:30 to 15:30 and 18:30 (Sundays 18:00) to 23:30 (Saturdays 24:00) hrs on 297 kHz.
Approx. 1944: Often music to 04:00 hrs as beacon for the air force.
February 20th 1944: Connection with the German modulation cable network via Kšnigsberg-lnsterburg-Tilsit-Schaulen-Riga-Pernau-Reval-Rohuneeme-Porkkala-Helsinki. There was also a connection to the Finnish modulation cable network.
February 23rd 1944: The "Lappland-KurierÓ reported cuts of transmission times in the last weeks because of technical problems. Now transmissions 06:00 to 08:00, 12:00 to 15:30 and 21:00 to 01:00 hrs on 297 kHz.
End of April 1944: New schedule: 06:30 to 08:00 (Sundays 07:00 to 09:00), 13:00 (Sundays 13:30) to 14:30 and 20:00 (Sundays 19:00) to 23:00 hrs on 297 kHz.
Beginning of July 1944: Now transmissions 06:00 to 08:00 (Sundays 07:00 to 09:00), 12:00 to 15:30 and 18:00 to 24:00 hrs on 297 kHz.
Approx. September 1944: Start of Finnish language news.
Not later as mid-October 1944: Drive to Tromsż, then to Narvik, then with ship to Mosjżen. Drive to Drontheim(Trondheim) in heavy snow. From Drontheim on a train to Oslo.
January 1945: Set up in Hellerud on a hill.
Approx. the beginning of February 1945: Transmission of the Sweden program on 297 kHz. Antenna: probably 3 T-antennas on 3 steel or wooden masts, a Ó DreieckflŠchenantenne.Ó Studio in southern Norway.
May 8th 1945: Surrender of German forces in Norway, station taken over by British troops and remains there.
Comment: Shortwave transmissions with the title ÓFrohe Musik nach Mitternacht auf kurzer WelleÓ are documented in February 1944.<![if !supportFootnotes]>[6]<![endif]>
Source 3. Ršster i Radio Winter 1943.
ÓJust before the New Year a new Soldatensender appeared on Short-and Longwaves. The Longwave station is not too strong in Stockholm, but has a very good signal into Norrbotten. The shortwave signals on 25,4 and 45,5 metres are well heard in Stockholm, but are not logged in Northern Sweden so far.
Programming is light, and consists of gramophone jazz, ouvertures, musical potpourris, radio drama, as well as re-transmissions of Deutschlandsender and the Wehrmachtbericht. One is not sure of the location of this sender, but it might be in Tromsż, Bodż, Vadsż or elsewhere in Northern Norway.Ó
<![if !vml]>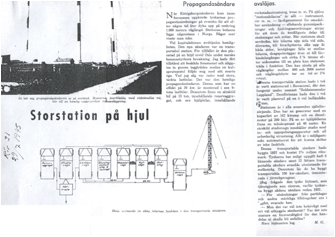 <![endif]>
Picture: The actual Ršster i Radio article(21/1943?) relating about Laplandsender in 1943.
Comment: Ršster i Radio is the Swedish equivalent to ÓRadio TimesÓ and ÓProgrambladetÓ.
Source 4. Jan Erik RŠf, Arctic Radio Club, Sweden
http://www.stellamaris.no/mv.htm
From MV-DXingens historia: MV-DXingens historia fram till 1950-talet:
É
ÓSwedish listeners were towards the end of 1943 able to receive a new Longwave station on 1010 metres calling itself Soldatensender Lappland. In the county of Norrbotten the reception quality was good, but it also used some Short Wave transmitters that were possible to hear from more Southern locations. It targetted German soldiers stationed in Norway and Finland. It broadcast a lot of gramophone records, but also re-transmitted Deutschlandsender in Berlin as well as the inevitable Wehrmachtbericht, the war news.ÓÉ
From MV-DXingens historia: Andra vŠrldskrigets slut:
ÓHier spricht der KšnigsbergsradioÓ/
HŠr talar Kšnigsbergsradion
Another example of the will to fight is what happened to the Swedish programs transmitted from Kšnigsberg in East Prussia, today known as the Russian enclave of Kaliningrad, on 868 and 224 kHz.<![if !supportFootnotes]>[7]<![endif]>
<![if !vml]>

<![endif]>
When the Soviet Army captured the city, a substitute to this station suddenly surfaced at the end of April 1945, when everything was quite hopeless for the Germans. Now, however, the station was heard from Norway, on 1010 metres longwave. In the last shaky minutes of the war a station somewhere in Eastern Norway had been established, complete with the Swedish editorial staff from Kšnigsberg. I heard it myself several times around April 25, as a newspaper article of April 23rd had informed that the station had been on the air for some days.<![if !supportFootnotes]>[8]<![endif]>Ó
Comment: The Wavelength table of Rżster i Radio for March 26th, 1944 has a listing of Rovaniemi on 1220 metres, 246 kHz. This was the domestic Finnish service. Their station in Rovaniemi opened September 19th, 1943.<![if !supportFootnotes]>[9]<![endif]>
Source 5: Dagens Nyheter April 23rd, 1945:
ÓNew ÓKšnigsbergÓ in Southern Norway.
<![if !vml]>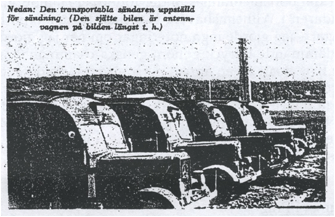 <![endif]>
Picture: The actual newspaper article relating about Yngve Hugo detecting the ÓnewÓ Kšnigsberg.
ÓThe Germans have re-activated the Swedish-language programs on the radio, mainly with the same personnel that took care of the Kšnigsberg programs.
On RadiotjŠnst-where by the way chief director Yngve Hugo discovered the new transmitter- a direction finder has been used and the station is considered to be situated 265 degrees westwards from Stockholm, which should account for it being in Southern Norway, maybe Kristiansand.
A female speaker, whose voice was identified as one of the Kšnigsberg voices, announced a large concert. At 2215 hours there was a Swedish news bulletin. The entire program was in the old Kšnigsberg style<![if !supportFootnotes]>[10]<![endif]>, with two male speakers, also recognized from the Kšnigsberg voices.
The news bulletin mentioned GoebbelsŐ Saturday speech and mentioned Berlin as a front city and the target of the Red Army. The transmission was noted for its anti-Russian propaganda. The station transmits on the wavelength of 1010 metres and the call sign is ÓHallo Norden.Ó The news bulletin was later suddenly abrupted, and dance music continued, without there being further announcements.Ó
Source 6. Ršster i Radio no.31, July 29th, 1945
Storstation pŒ hjul. PropagandasŠndare avslšjats.
In Ršster i Radio July 29th, 1945 there was large coverage on the ÓNorwegianÓ Kšnigsbergradio. The explanation of how Kšnigsbergsradion as it was known in Swedish might be able to come back from Norway was now given. The journalist had gained approval to visit the site, and he was consequently let through the barbed wire while a machine gun was pointing at him.
<![if !vml]>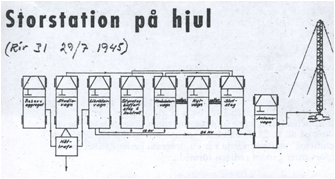 <![endif]>
Picture from Ršster i Radio July 29th, 1945. Giant station on wheels. Propaganda station revealed. Is the road in the picture the old Tveten road?
ÓA 20 kilowatt mobile radiostation had been placed on a hill outside of Oslo, in 6 Mercedes 6-ton trucks complete with necessary equipment and a telescopic aerial being 46 metres high. When it was in operation, the cars would park side by side, and a gangway with ÓaccordeonÓ tarpaulin walls put up between each unit. One unit had a studio, as automated as possible, in order that amateurs might operate it if necessary. The transmitter mast was placed on the last car in the row. In addition a 13-ton car and six utility cars, with a workshop, etc. The station, only being able to use longwaves between 600 and 2000 metres, was possible to erect and be on the air after 2 1/2 hours. Frequency changes were done in 2 1/2 minutes.Ó
<![if !vml]>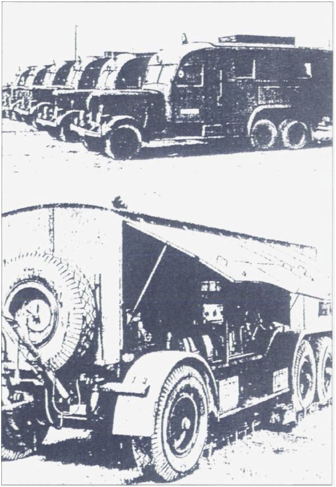 <![endif]>
Picture from Ršster i Radio July 29th, 1945.
The German Officer who proudly showed the station to the RiR-journalist indicated it had cost 2 1/2 Million Reichsmark. Goebbels was the information genius of Hitler and even that early prepared the propaganda offensive necessary for the coming German expansion. He also said that the Germans had six larger mobile transmitters as well as twelve ligther ones for Medium Waves. It was said that they also had 100 kW-transmitters in railway wagons.
<![if !vml]>
<![endif]>
Picture from Ršster i Radio July 29th, 1945. The Mercedes trucks are lined up.
When the Swedish journalist asked why the transmitters had been built already 1937, the Lieutnant replied that it was for transmissions from Parteitagen and Óother strange happenings in the countryÓ.
<![if !vml]>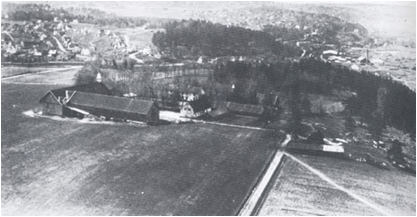 <![endif]>
Picture from Ršster i Radio July 29th, 1945. Drawing of Rovaniemi/Radio Norden Longwave station.
ÓI am sure you didnŐt need so many transmitters for this use? WasnŐt it rather an unit for defence purposes?Ó Then the Lieutnant laughed.Ó
The proud station caretaker also said the station had not only been used in Rovaniemi as ÓSoldatensender LapplandÓ, but before that on an island off the Dutch Coast!Ó
Comment: The photo coverage of Ršster i Radio from July 29th, 1945 shows more radio masts than the one that belonged to the Rovaniemi equipment according to a drawing in the same magazine.<![if !supportFootnotes]>[11]<![endif]>
Source 7. From Radiodx.com and ÓKurierÓ. http://www.radiodx.com/spdxr/german_army_r.htm
ÓIn 1942, a mobile radio station, housed in 7 seven railway vans, was taken to Rovianemi (ROE-vee-AH-na-mee) in Finland where it was placed on air from the German army barracks 10 kms out of town. This army entertainment station was on the air for nearly three years.
The daily schedule from Laplandsender consisted of variety programming, news bulletins, and Finnish language lessons. The final broadcast from this unit was in November 1944.
When German forces withdrew from Finland to Norway, they took their mobile radio station with them. However, after a further withdrawal, the station was abandoned and it is now on display in the Radio Museum in Bergen, Norway.Ó
Ó Lapland German mobile transmitters in reserve;
Lapland Sender at Rovaniemi 1942-November 1944,
Studio & offices in barracks.
10 kM from Rovaniemi in 7 railway wagons,
1 1st stage
2 1st stage
3 Modulator
4 Final stage
5 Equalizer
6 Antenna and masts
7 Longwave antenna
Variety programming, news, Finnish language lessons; Kurier
Last broadcast Nov 1944, withdrawn to Norway.
Abandoned in Bergen, now in Radio Museum.<![if !supportFootnotes]>[12]<![endif]>Ó
Comment: The information above that this transmitter went to the Bergen Radio Museum at LKB Bergen Kringkaster is very probably not correct. A search has been done by the author at LKB Askży, at Bergen Technical Museum and a query has also been sent Bergen Military Vehicles Assocation with no reply. <![if !supportFootnotes]>[13]<![endif]>
Source 8. DX-ListenersŐClub, Norway. The late Bernt Erfjord.
http://www.stellamaris.no/bernt.htm
From ÓNorske Kringkastingsendere.Ó(Norwegian Broadcasting Stations, about mostly vintage Norwegian AM Transmitters. ŠBernt Erfjord, DXLC 1996 rev.2012 by this writer.)
lesund, Vigra: 623230N/060324E. Call sign LKA.
É
Ó1945-1948: 20 kW German mobile field station, that came from Finland, captured by Norwegian Forces after the war. Consisted of mobile units driven near each other with a roof added. If the Montreux Plan had been activated, Vigra would have used 708 kHz. However, it was logged in Sweden on 629 kHz in October 1945. (Rżster i Radio 43/45)But Longwave 282 kHz is mentioned in list from 1946, this also being the frequency late 1945.<![if !supportFootnotes]>[14]<![endif]> 1947: 629 kHz 20 kW. (This is the frequency from the Copenhagen Plan not officially implemented before March 15th, 1950!)
Source 9. Just Quigstad<![if !supportFootnotes]>[15]<![endif]>:
<![if !supportLineBreakNewLine]>
<![endif]>
http://www.la9dl.no/Norske%20kringkastere/sendere-AM.html#vigra
ÓÉAfter the war the reserve transmitter of 1 KW, was substituted by a 20 kW mobile broadcast station taken over by the Germans. The booty, originally from Finland, consisted of several mobile units that were linked and a roof was built over them. This started transmissions at Vigra as LKA from Oct. 25th, 1945, synchronized with Bergen I on LW 282 kHz. From 1947 on 629 kHz.Ó
Comment: The Wavelength table of Rżster i Radio for March 10th, 1946 has LKA Vigra still on 629 kHz, synchronized with LKT Trondheim-Tyholt. LKB Bergen is the only one listed on 282 kHz.
Source 10. ÓNRKs tekniske tjeneste og beredskapstjenestenÓ, by Oeystein Halvorsen, in ÓKringkastingens tekniske historie. En artikkelsamlingÓ, p.272-273. NRK 1999ŠISBN 82-7118-260-9.
In this book, what was Station ÓLÓ is dealt with under the subject of reserve transmitters after the war. No mention is made of any appearance at LKA Vigra or LKB Bergen. The complete station was mothballed in a garage at Nordseter, Lillehammer. The Telegrafverket(later: Televerket, Telenor) took it for granted than they owned it. In 1949, 3 of the trucks, including the one with the temporary antenna, were sold on the civilian market. An inspection was held the next year, and established that 6 of the units, including the transmitter and permanent antenna were intact. In addition, a diesel generator truck was found at Raufoss, with considerable damage.
A lot of discussion followed regarding ownership, use and responsibility, and it was not before 1954 that the Defence Staff decided the station to be given to the NRK complete and cost free.
Then it was up to the NRK to continue the discussions. Some of the ideas for use that came up were reserve for LKO Lambertseter 218 kHz(later at Kloefta) or as a new relay for the NRK at Andoeya in Northern Norway.
It would appear that nothing at all came out of this, and what was the 2,5 Million Mark Station ÓLÓ , now at LKF in Fredrikstad, was scrapped in the early 60s.
Comment: The story is not unlike what happened to 200 kW LKO Kloefta 216 kHz where the two towers were felled 1995, or the sad fate of most of the Decca station sites from 1998 onwards. It would seem that many decision makers and bureaucrats cannot have had a clear understanding of the potential of AM broadcasting, and what it could mean for the country.
<![if !vml]>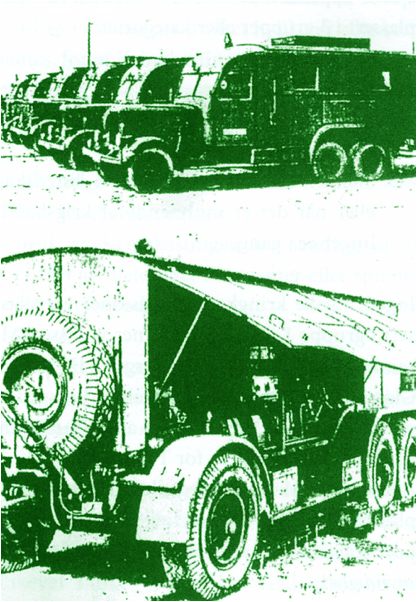 <![endif]>
Picture: Station L was mothballed after the war. Picture: The late Erik JulsrudŐs collection.
Source 11. HitlerŐs Airwaves
The book HitlerŐs Airwaves(ÓThe inside book of Nazi Radio Broadcasting and Propaganda SwingÓ) might describe some of the background of the above story. In chapter 8: ÓThe Battle StationsÓ and Radio ArnhemÓ(The latter also heard by Jan Erik RŠf) it is indicated on p.224 that Óseveral mobile transmitters were establishedÉin co-operation with units of the Wehrmacht propaganda Department(OKW/WPr) and the ÓSS-Standarte Kurt EggersÓ, which had a broadcasting section of its ownÉÓ<![if !supportFootnotes]>[16]<![endif]>(Horst J.P.Bergmeier and Rainer E.Lotz: HitlerŐs Airwaves, Yale University Press, New Haven, CT/London, UK, ISBN 0-300-06709-7)
Source 12. The Niclas Sennerteg contribution.
In 2006, Swedish journalist Niclas Sennerteg published his comprehensive work on the Kšnigsbergradio:Ó Tyskland talar, Hitlers svenska radiostationÓ<![if !supportFootnotes]>[17]<![endif]>.
Most of the book deals with the main stages of the Kšnigsberg radio from the start on Nov.20th, 1939, but from Chapter 9<![if !supportFootnotes]>[18]<![endif]>, Sennerteg deals with ÓThe last faithfulÓ, and describes how two Swedish pro-Nazis ÓescapesÓ to Norway in late 1944 in order to volunteer for work on the Kšnigsbergradio, at that time located in Danzig. A fortnight after installed behind the microphone in todayŐs Gdansk, their motives may also have been a growing understanding that Germany would lose the war, and a strong wish to stand up against Bolshevism.
Sennerteg notes that the Swedish transmissions ceased on January 25th or 26th, 1945 due to a direct hit at the transmitter site by Soviet artillery fire.
A turbulent evacuation ensued a couple of days later, and after an unsucessful restart of the service on Short Wave from the Reichsender main studios in Masurenalee in Berlin, transmissions from Hamburg(ÓLord Haw-HawÓ site Norden?-editor)were contemplated. This also came to nothing and the remaining Swedes in German service thought that the last had been heard of the Kšnigsbergradio.
As Bernd-Andreas Mšller (see Source 2, above) notes, in late 1944 the former ÓSoldatensender NordlandÓ had been sent through Norway by ship, car and then train to Oslo after it arrived in occupied Narvik from Rovaniemi. In January 1945 it was then Óset up in Hellerud on a hillÓ. Then in approx. the beginning of February 1945 Mšller notes the transmission of the Sweden(presumably a relay of the Kšnigsberg program, editor) program on 297 kHz.
In his Chapter 10: Comeback in Norway<![if !supportFootnotes]>[19]<![endif]>, Sennerteg then has the remaining Swedish personnell Gšsta Martin, Ingrid Schlack and the two ÓfugitivesÓ mentioned above, Knut Stenborg and Vilhelm Dahlquist arriving in Oslo March 28th, 1945, perhaps the start of April. At Tveita, they were joined by a Swedish SS-officer, Gšsta Borg, whose voice many times earlier had been heard on the Kšnigsbergradio, as he had been a war correspondent on the Eastern front, having covered the Jewish revolt in Warshaw 1944.
With these 5, the last episode of the Kšnigsbergradio started on Longwave 1010 metres on April 15th, 1945. The Svenska Dagbladet with an unkown source already had forecasted the return of the station in its April 8th edition.
On April 22nd, the transmissions were discovered by the Radio Office of the Swedish Foreign Office(triggered by the dxing of Yngve Hugo of RadiotjŠnst, see above?-editor)and the day after, Dagens Nyheter reported the station back on the air, ÓeventuallyÓ from Kristiansand, as Hugo told the newspaper.
How were these last programs of this strange radio station on the east side of Oslo in the last weeks of WW2? We hand back to Dagens Nyheter on April 23rd, 1945:
ÓEn kvinnlig hallŒman, vars ršst identifierades som en av Kšnigsbergs-stŠmmorna,(Ingrid Schlack, editor) annonserade en stor konsert. Kl. 22.15 sŠndes nyheter pŒ svenska. Hela programmet gick i gammal Kšnigsbergsstil, med tvŒ manliga upplŠsare vilka kŠndes igen frŒn KšnigsbergssŠndningarna.
NyhetssŠndningen anknšt till Goebbels lšrdagstal och sysslade med Berlin som frontstad och kampmŒl fšr de ršda armŽerna. SŠndningen prŠglades av antirysk propaganda... Nyheterna avbršts mitt i
en mening, och programmet fortsatte senare med dansmusik, utan att stationen annonserades.Ó
In the minutes of the investigation in Sweden after the war<![if !supportFootnotes]>[20]<![endif]>, Gšsta Martin is described as having had Ódaily lecturesÓ on the radio station warning aginst Óthe red dangerÓ and a Óthird world war.Ó
On April 24th, the Swedish newspaper Aftontidningen reported that Allied reports now were read in newscasts without comments except that the speaker added Óhe did not have any German standpoint to report regarding this informationÓ.
On April 27th, 1945, at 2215 hours, the Radio Office of the Swedish Foreign Office<![if !supportFootnotes]>[21]<![endif]> noted this statement by the station:
ÓVad vŒr mŒnadslŒnga tystnad betrŠffar behšver vi vŠl knappast spilla sŒ mŒnga ord hŠrpŒ, ty det skulle vara barnsligt av oss att fšrdšlja, att det var militŠra skŠl som tvang oss att inhibera sŠndningarna.Vi skall icke hŠr i detalj skildra ett militŠrt hŠndelsefšrlopp. Det fŒr vara nog med att faststŠlla, att vi stodo samlade pŒ vŒr post in i det sista, varmed menas, att vi ej švergav vŒr dŒvarande sŠndare fšrrŠn den blev
plštsligt obrukbar. Att vi icke fšrberedde vŒra lyssnare pŒ avbrottet berodde sŒledes pŒ skŠl som lŒgo utanfšr varje kontroll frŒn vŒr sida. Att vŒr fŠrd frŒn šstra Tyskland till relativt lugnare nejder blev en smula spŠnnande ha vi ej nŒgon anledning att hemlighŒlla.Ó
On April 29th, 1945, at 2000 hours, the Radio Office of the Swedish Foreign Office<![if !supportFootnotes]>[22]<![endif]> noted the station rejected the runours that Hitler was dying and that Himmler was trying to negotiate a separate peace with the allies. There had been no German revolt in Bavaria, but he speaker had to admit Mussolini had been excecuted.
Even if the news of HitlerŐs death dawned also on Tveita on May 1st, the Kšnigsbergradio continued its transmissions warning against Communist expansion. The Soviet Union would occupy Northern Norway and Sweden, create a ÓLaplandÓ Soviet Republic and demand fleet bases further south.
The two coming days<![if !supportFootnotes]>[23]<![endif]>, the Swedish Government was praised, having been able to keep SwedenŐs Óstate ship unhurt through the hundreds of breakers it has had to passÓ wishing the government great success in the future.
But even if the female member of the editorial staff thought Germany would be winning until one hour before the capitulation, the staff now did their utmost to escape from the hill at Hellerud.
On May 7th, 1945 at 2000 hours the final broadcast took place<![if !supportFootnotes]>[24]<![endif]>: First an address by one of the Grossadmiral Dšnitz cabinet ministers(Schwerin von Krosigk) was referred to and then the Óterrible newsÓ Ówe all have been expectingÓ was broadcast, of GermanyŐs capitulation without terms. The speaker did not think Germany by this would be going under, but he stated the war had been won by the states Óthat had access to unlimited human resources and had the raw material without which no war may be waged.Ó
The final words on 297 kHz said:
ÓNu lŠgger vŒr radio ned sin ršst, ty vi anse det meningslšst att fortsŠtta vŒra utsŠndningar.Vi tackar vŒra lyssnare fšr den vŠnskap och den uppmŠrksamhet, de skŠnkt oss, och varpŒ vi fatt sŒ mŒnga bevis.
PŒ Œterseende, kŠra lyssnare. Vi sŠger med avsikt inte "farvŠl", ty vi tror, att vi fšrr eller senare pŒ det ena eller andra sŠttet kommer att Œterknyta vŒra fšrbindelser genom etern. Men lŒt oss nu i detta allvarliga šgonblick hylla alla dem, som under dessa hŒrda Œr stupat i kampen fšr sitt land. Det mŒ vara fšr Tyskland, England eller Amerika eller nŒgon av de andra nationer, som av ett hŒrt šde dragits in i detta olyckliga krig. I djup všrdnad bšja vi vŒra huvuden.Ó
Then the station broadcast mourning music until it became silent. The day afterthe German forces in Norway surrendered, and Mšller (see Source 2, above) notes the station was taken over by British troops and remained in Tveita.
In July, 1945(Source 6, above) a Ršster i Radio journalist visited the station and found it guarded by Milorg troops but still with German troops as caretakers.
And the broadcast staff? Well, all the Swedes already with their suitcases packed, were driven in haste to the railway station in Oslo, boarded the Stockholm train at 2215, on May 7th, 1945, nervous not to reach the Swedish border before the German capitulation also in Norway was a fact.
But this they did. They were all interrogated by the Swedish Security Police, but did not have to face further consequences for their service to Hitler<![if !supportFootnotes]>[25]<![endif]>.
Source 13: Robert Muhrman, formerly of Televerket(1950-1988) relates the following story (see also Source 7-10 above):
In autumn 1945 the former Kšnigsbergradio trucks and equipment arrived at Vigra Broadcasting station and stayed there in the capable hands of Chief Engineer Petter Blindheim until the new permanent station there had been built in 1948. 20 kW was indeed a better transmitter than the pre-war original 1kW. The newer American transmitter had been bombed in April, 1940.
Now more peaceful programs were being broadcast from the truck station. If the Montreux plan had been implemented it would be on Medium Wave 708 kHz, however, everything points to Longwave 282 kHz being used(listener report, 1945, listing March 1946). Then somewhat premature, we find the station on 629 Khz from 1947, the channel also the new permanent Vigra would use from 1948, officially the stationŐs frequency in the Copenhagen plan of March 15th, 1950<![if !supportFootnotes]>[26]<![endif]>.
<![if !vml]>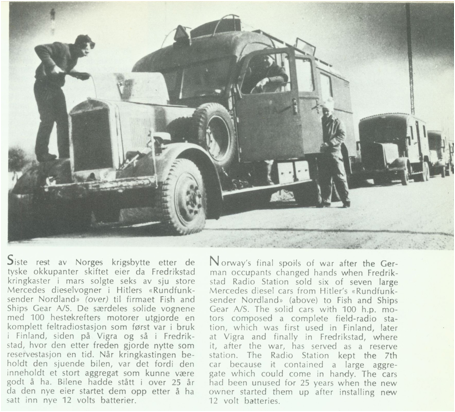 <![endif]>
Picture: ÓStation LÓ 1971: ÓNorwayŐs final spoils of war after the German occupants changed hands when Fredrikstad Radio Station sold six of seven large Mercedes diesel cars from HitlerŐs Rundfunksender Nordland to Fish and Ships Gear A/S. The solid cars with 100 h.p.motors composed a complete field-radio station, which was first used in Finland, later at Vigra and finally in Fredrikstad, where it, after the war, has served as a reserve station. The Radio Station kept the 7th car because it contained a large aggregate which could come in handy. The cars had been unused for 25 years when the the owner started them up after installing new 12 volt batteries.Ó Picture: Norwegian Pictorial Review (Norgesrevyen)1971. –The brief ÓadventureÓ of this radio station in Oslo 1945 seems quite unknown here, editor. The Fredrikstad AM 1578 kHz aerial is visible in this picture.
Muhrman continues: ŇThe first car, a seven-seat Mercedes was converted to a lorry and was used for many years by Televerket. The former German station was driven to Fredrikstad Broadcasting Station. It was not a good storage place, though, and it deteriorated quickly. Incidentially, aerial workers of Televerket lived in Moelven barracks at the site at …ra during winter time. When what had been a German propaganda sender was sold 1971 the diesel generator(one car) was kept, together with some other parts.Ó
<![if !vml]>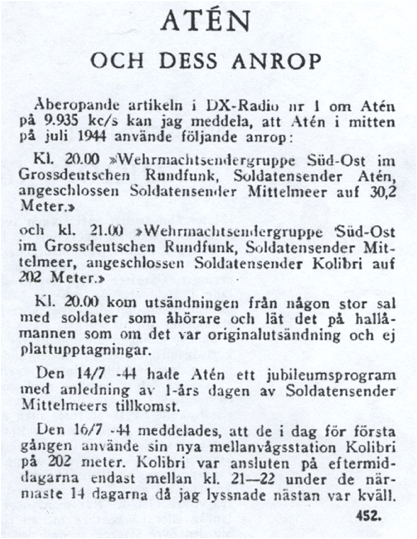 <![endif]>
Picture: News item from DX-Radio 1944 about Soldatensenders Kolibri, Aten and Mittelmeer.
Conclusion:
A long-wave station previously used in Rovaniemi, Finland, was established at Hellerud near Tveten gŒrd in the Aker municipality near Oslo towards the end of WW2 and used for Kšnigsbergradio programs. It announced itself as ÓHallo NordenÓ, and broadcast on 297 khz, 1010 metres longwave.
But during these troubled years, the occupants of course could have established the stations and used the frequencies they wanted.
Two stations from the same site might be indicated by the information from the Godlia source of Medium Wave reception in 1942. (However, reception so near the site might have been a harmonic of the original signal, then likely to appear at least on 594 kHz Medium Wave)
If there was another station at Tveita it might have been a ÓSoldatensenderÓ or a station relaying a regular German service from Óthe ReichÓ, such as Deutschlandsender.
The station was used as part of the NRK domestic network shortly after the war, but after this Norwegian authorities for over 15 years never managed to come up with any decision for use, and eventually scrapped it.
Svenn Martinsen
<![if !vml]>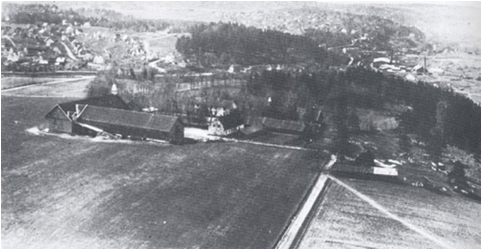 <![endif]>
Picture: Tveten farm, Tveten Road no. 101 in pre-war years. In the background downhill the villages of Godlia and Hoeyenhall to the left, and Bryn to the right. The lighter field in the lower right corner was the Hellerud (aka the Tveten fields)location of Station L towards the end of the war. The actual site as a whole is not in the picture, but indications are that one of the antenna masts was located near the road in the picture<![if !supportFootnotes]>[27]<![endif]>. By kind permission from Groruddalen historielagŠ.
<![if !vml]>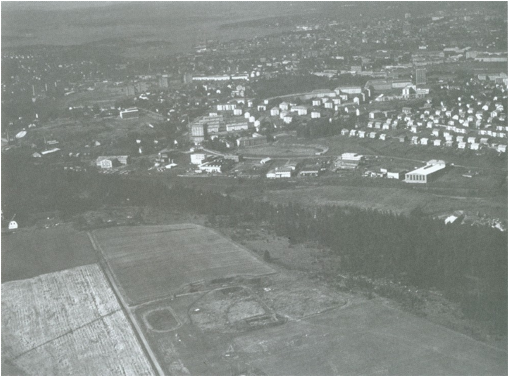 <![endif]>
Picture: Tveten farm, Tveten Road no. 101 in 1960. Oslo is growing and has swallowed Aker Municipality. The servantsŐ house of Tveten farm is in the left, and Bryn School is in the middle of the picture. This picture clearly shows the remnants of Station L, with much concrete such as guy wire foundations, house walls and shelters. It was impossible to revert the area to farmland. By kind permission from Groruddalen historielagŠ.
Appendix: Swedish reviews of Niclas Sennerteg:
Tyskland talar. Hitlers svenska radiostation
Book and CD Published by Historiska media, Lund, 2006.
ISBN 91-85377-94-5.
info (at) historiskamedia.se
<![if !vml]>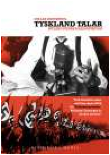 <![endif]>
<![if !vml]>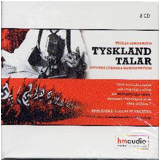 <![endif]>
1. God afton, det Šr Tyskland som talar
Under andra vŠrldskriget fanns det en tysk radiosŠndare som hette Kšnigsberg och sŠnde pŒfallande bra musik. NŠr Hitler intog Warszawa, spelades till exempel oavbrutet Beethovens strŒkkvartetter och Mozarts symfonier. Ibland sŠnde Kšnigsbergsradion Šven pŒ svenska, och nŠr hallŒmannen intrumfat i oss nordbor att ŇHitler var vŠsterlandets sŠkraste vŠrnÓ mot Ňbolsjeviker, judar och annat jordens avskumÓ, spelade man fšr sŠkerhets skull Šven Hugo AlfvŽn och Kurt Atterberg.
I en intressant och noggrant dokumenterad bok Tyskland talar har journalisten Niclas Sennerteg kartlagt Kšnigsbergsradions verksamhet. Egendomligt nog satt redaktionen sŠllan i Kšnigsberg, det vill sŠga nuvarande Kaliningrad, utan hšll fšr det mesta till i Berlin. DŠr kŠmpade propagandaministeriet under Goebbels och utrikesministeriet under Ribbentrop sinsemellan om kontrollen šver de utlŠndska sŠndningarna. Ty vŠrldskriget skulle vinnas inte bara pŒ slagfŠlten utan ocksŒ i etern. Och dŒ gŠllde det att lŠgga orden rŠtt fšr att vinna sympatier fšr en tysk nyordning i Europa.
Sennerteg har lagt ner stor mšda pŒ att spŒra de svenska medarbetare som redigerade materialet och som satt vid mikrofonerna och lŠste. Det ršrde sig om exilsvenskar, som av en eller annan anledning hamnat i Berlin och endera var nazister eller ocksŒ lycksškare och vilsekomna existenser i stšrsta allmŠnhet. I en avslutande fšrteckning noteras 40-talet namn; Thorolf Hillblad, Elin Svensson, Anna-Lisa Gerloff, Rolf von Nauckhoff, Gšsta Richter och allt vad de hette.
Yrkena var mŒnga: journalister, skŒdespelare, officerare, šversŠttare, affŠrsmŠn, hemmafruar, sŒngare och musiker. Sennerteg fšljer deras livsšden in i detalj och sŒ lŒngt kŠllorna ger besked. Ibland vŠxer personintresset ut och blir nŠstan ett sjŠlvŠndamŒl, en smula pŒfrestande fšr lŠsaren.
Med skiftande framgŒng fšrsškte tyskarna anpassa nazipropagandan efter den svenska opinionen. Det hade sina sidor att fŒ svenskarna att fšrstŒ att finnar och tyskar alltid var de bŠsta vapenbršder eller att Norge och Danmark invaderades bara fšr att fšrekomma en engelsk ockupation. Eller att Hitler och Stalin ena dagen samsades i den sŒtaste samfšrstŒndspakt fšr att nŠsta dag bekŠmpa varandra pŒ liv och dšd!
Intressant nog syftade propagandan sŠllan till att underblŒsa Lindholmarna eller andra naziorganisationer pŒ svensk mark. Man nšjde sig med att gšra svenskarna i stšrsta allmŠnhet tyskvŠnliga och fšrvissade om Tredje rikets oundvikliga slutseger.
NŠr bomberna bšrjade regna šver Berlin flyttade redaktionen fšr en kort tid šver till Kšnigsberg i Ostpreussen. Och nŠr det sedan bšrjade osa hett Šven dŠr, flyttade man - hšr och hŠpna! - till Norge, dŠr man i det lŠngsta sŠnde frŒn en sŠndare utanfšr Oslo.
NŠr sŒ det tusenŒriga rikets saga var fšrbi ŒtervŠnde Kšnigsbergsradions medarbetare slokšrade hem till Sverige. Den ene tog sig fšr att skšta en hšnsfarm i SmŒland, den andre blev portier pŒ Karlstads stadshotell, och grevinnan Dagmar Kronstedt gick och gifte sig med blivande Nobelpristagaren Ulf von Euler. Ingen av dem blev straffad, ty landsfšrrŠdare kunde de omšjligen kallas. Sverige hade ju aldrig varit i krig med Nazityskland, nŒgon fiende fanns fšljaktligen inte. Och rŠtten att ha fel Œsikter Šr som bekant helig i en demokrati.
Thure Stenstršm
http://www.svd.se/dynamiskt/rec_litteratur/did_14393586.asp
2. Svenskar sŠnde Hitlers radio
Med radions hjŠlp kunde Nazityskland fšra fram sin propaganda i svenskarnas vardagsrum. Niclas Sennerteg har skildrat Kšnigsbergsradion och svenskarna som lŒnade ut sina ršster till den.
<![if !vml]>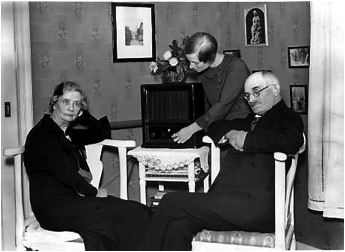 <![endif]>
PŒ 30- och 40-talet var radion ett viktigt sŠtt att nŒ ut till allmŠnheten.(Unknown photographer.)
Ingen vet hur mŒnga svenskar som den 20 november 1939 fick fšr sig att stŠlla in sin radio pŒ 291 meter pŒ mellanvŒgsbandet. Den som till Šventyrs gjorde det kunde, fšr fšrsta gŒngen, hšra en ljus, ung ršst som harklade sig och sade: "HallŒ Norden, hŠr talar Tyskland!"
Den som lŒnade sin stŠmma till Nazitysklands nystartade propagandasŠndningar pŒ svenska var den dŒ drygt tjugoŒrige Thorolf Hillblad, svensk studerande i Berlin, medlem av det svenska nazistpartiet SSS och senare frivillig pŒ šstfronten. Sverige hade fŒtt sin egen Lord Haw-Haw, som var šknamnet pŒ den mest kŠnde radiofšrrŠdaren under kriget, William Joyce, vars dryga radioršst mŒnga engelsmŠn med Šckelfascination lyssnade till kriget ut. Hillblad och hans kolleger nŒdde dock aldrig samma notoriska status som denne. SjŠlv kom Hillblad ihop sig med radiochefen Eichert och lŠmnade 1941 radiosŠndningarna fšr Waffen-SS. Men han var bara en av mŒnga mŠrkliga existenser som passerade revy framfšr radiomikrofonen innan stationen packade ihop i samband med tyskarnas kapitulation i Norge i maj 1945. DŒ hade man flyttat sig undan slutstriden och sŠnde frŒn en mobil station utanfšr Oslo.
Om "Kšnigsbergsradion", som den ocksŒ kallades, har Nicklas Sennerteg skrivit en bitvis skrŠmmande, bitvis nŠstan galghumoristisk skildring, "Tyskland talar: Hitlers svenska radiostation". Sennerteg verkar ha grŠvt i alla arkiv och talat med alla, inklusive Thorolf Hillblad sjŠlv, en av de fŒ frŒn radiostationen som Šnnu Šr i livet, nu i sydamerikansk exil.
De svenska sŠndningarna var bara en liten del av den enorma propagandaapparat som huserade i Berlins radiohus, dŠr man sŠnde pŒ šver tjugo sprŒk via sŠndare placerade pŒ olika hŒll i Europa. Alltsammans sorterade under Goeb bels propagandaministerium, ett av mŒnga exempel pŒ hur nazipropagandan fšrstod att anvŠnda modern teknik. De svenska sŠndningarna var i regel en halvtimmes till en timmes "nyheter" och "aktualitetsprogram" med inlŠsta rapporter frŒn fronten eller skildringar av dagligt liv i Tredje riket. Sennerteg fšrdjupar sig inte sŒ mycket i innehŒllet, och sjŠlva programmen finns inte heller bevarade. Men en del gŒr att rekonstruera, som den antisemitiska propaganda som redan frŒn bšrjan var ett huvudnummer.
Som mŒnga andra historiska reportage av det hŠr slaget blir "Tyskland talar" ibland vŠl minutišs. Olika personalomflyttningar och omorganisationer skildras pliktskyldigt. Men det hindrar inte att boken lŠgger en viktig bit till bilden av Sverige under kriget. Inte minst nŠr det gŠller medlšperiets psykologi.
Det som intresserat Sennerteg mest Šr de mŠnniskor som sškte sig till "Kšnigsbergsradion". En del, som skŒdespelaren Gšsta Richert, var rena opportunister som sškte en karriŠr i "det nya Tyskland". Han hade redan hemma i Sverige medverkat i den antisemitiska filmen "Panik" (1938) och gjort sig omšjlig, och kom att eftertrŠda Hillblad som fšrste radiopratare. NŠr han efter kriget kom hem till Sverige var karriŠren mycket riktigt šver och han fick hanka sig fram pŒ stršjobb.
Ett annat och intressantare namn var Brita Bager, ung societetsdam frŒn Kalmar, som drogs till Berlin av en glšdande beundran fšr FŸhrern och allt tyskt. Bager deltog tydligen med liv och lust i Tredje rikets glansperiod, men runt 1943 bšrjade livet i Berlin bli hŒrt och hon for hem. I likhet med en annan avhoppare, Gšsta Block, ville hon rentvŒ sig genom att berŠtta vad hon visste. Intressant nog sade hon i en intervju med den brittiska tidningen Britsh Dispatch i september 1943 fšljande:
"Precis som folk i gemen kŠnner tyskarna nu till sanningen om de ockuperade omrŒdena. De inser ocksŒ vad som egentligen hŠnt med judarna. De vet att nazisterna inte ens ansŒg att judarna var vŠrda att slšsa kulor pŒ, utan istŠllet anvŠnde gas fšr att dšda dem."
Den svensk som ville veta kŠnde till detta sedan ett knappt Œr. Men Bagers uttalande Šr Šnnu en spik i kistan fšr det gamla "vi visste ingenting"-tjatet.
Sennerteg berŠknar att som mest kanske sŒ mŒnga som 10 procent av de svenska radiolyssnarna ibland tog in Kšnigsbergsradion. Och han beskriver trŠffande ett skikt av svenskar som stod redo att samarbeta med naziregimen, fšr pengar, av ideologisk švertygelse eller bara fšr att det var tjusigt. Somliga blev fšrlŒtna, andra blev, som Gšsta Richter, i princip svartlistade. Thorolf Hillblad sitter pŒ ett Œlderdomshem i Sydamerika och skriver bšcker dŠr han framstŠller sin ungdoms nazikretsar i ett gyllene skimmer.
Till skillnad frŒn vŒra grannlŠnder behšvde vi aldrig hantera svŒra frŒgor om quislingar och hur de skulle behandlas. Sennertegs bok Šr ett stycke radiohistoria ur en svunnen tid, och skildringen av radiomiljšerna har viss nostalgifaktor. MedlšperifrŒgorna handlar dock om ett avsnitt av svensk historia dŠr det finns mycket kvar att tillŠgga.
Ola Larsmo
http://www.dn.se/DNet/jsp/polopoly.jsp?a=603436
3. Adlibris.com
Propaganda har i praktiken funnits sedan urminnes tider, men propaganda sompolitiskt medel anvŠndes fšr fšrsta gŒngen vid fšrsta vŠrldskriget. Under andravŠrldskriget blev propaganda ett mycket viktigt psykologiskt vapen. SŒvŠl tyskarnasom de allierade anvŠnde sig av flera olika propagandakanaler fšr att vinnašver folk pŒ sin sida, eller fšr att fšrvissa sig om att de redan švertygade skullebibehŒlla sina Œsikter. Tyskland talar handlar om Tysklands radiopropaganda,om lšgnerna det svenska folket fick hšra och om personerna bakom de anonymaršsterna.
Klockan nio pŒ kvŠllen den 20 november 1940 kunde svenska folket fšr fšrstagŒngen hšra den tyska radiopropagandan. Det var en svensk ršst som basuneradeut sin stŒndpunkt i cirka 20 minuter. LŠngre Šn sŒ var inte radiosŠndningarnafrŒn bšrjan, men allteftersom skulle de vŠxa bŒde i antal och lŠngd. I den fšrstasŠndningen gjordes det klart fšr det svenska folket att samtliga sŠndningar skulleprŠglas av en saklig rapportering sŒ att lyssnarna kunde bilda sig en egen uppfattning.DŠr betonades ocksŒ de gemensamma banden mellan Sverige och Tyskland och man sade šppet att det inte var propaganda man sysslade med, men att manvar partisk. Som lyssnare fick man ocksŒ veta att det var fienden och inte tyskarna som stod fšr lšgnerna. Programfšrklaringen var en sanning med modifikation,och genom vad som i folkmun kom att kallas fšr Kšnigsbergsradion anvŠndesotaliga propagandaknep som rena lšgner, lšsryckta citat och utelŠmnande avfakta. Radioršsterna var helt anonyma, ingen av dem ville gŒ ut med sina riktiganamn. De var alla svenska och hade pŒ ett eller annat sŠtt vŠrvats av den tyskepropagandaministern Joseph Goebbels. Den fšrste svenska hallŒmannen var studentenThorolf Hillblad. Han varvade sina studier med radion och tjŠnade pŒ sŒsŠtt en extra slant. NŠr han slutade tog den svenska skŒdespelaren Gšsta Richtervid. Vid krigsslutet var det en rad personer som hade arbetat vid Kšnigsbergsradion,men ingen av dem fick nŒgot straff i egentlig mening.
Hur mŒnga det egentligen var som lyssnade pŒ radiosŠndningarna Šr svŒrtatt sŠga, men antalet lyssnare škade efter hand och kanalen blev sŠrskilt populŠrunder de Œr dŒ det sŒg som mšrkast ut fšr Skandinavien. Den sista radiosŠndningenŠgde rum strax fšre krigsslutet.
Tyskland talar Šr en medryckande skildring av Œ ena sidan lšgnerna som komatt bli en del av svenskarnas vardag, Œ andra sidan personerna bakom ršsterna,hur de stŠllde sig till propaganda, hur vŠrvningen fungerade och vad som hŠndemed dem efter kriget. Niclas Sennerteg har kartlagt 20-30 personer som arbetadevid Kšnigsbergsradion i omgŒngar. Tyskland talar bygger pŒ material ur etttidigare okŠnt radioarkiv i Berlin, S€PO-akterna samt UD:s arkiv.
Niclas Sennerteg Šr fšrfattare och journalist, verksam pŒ BorŒs Tidning och harŠven arbetat pŒ Sveriges Radio i mŒnga Œr. PŒ Historiska Media har han tidigaregett ut de bŒda uppmŠrksammade bšckerna Stalins hŠmnd. Ršda armŽn i Tyskland1944-1945 (2001) och Warszawas bšdel (2003).
Inledningen till den fšrsta radiosŠndningen
"KŠra lyssnare!
Vi inleder idag vŒra sŠndningar pŒ svenska och ber om er uppmŠrksamhet. Inteheller fšr neutrala staters medborgare Šr det lŠtt att bilda sig en egen uppfattningom den politiska hŠndelseutvecklingen. Vi ska inte gšra nŒgonting annat Šn attger er mšjlighet att ocksŒ hšra den tyska stŒndpunkten tydligare och direktareŠn hittills i meddelandenas och Œsikternas stora radioorkester. Vi Šr medvetnaom att vi talar till ett neutralt lands medborgare, vilka i egenskap av Tyska riketsgrannar Šr sammanlŠnkade med oss via kulturens och ekonomins mest skildaband, men Šven genom talrika personliga relationer frŒn mŠnniska till mŠnniska.Fšrvisso Šr vi part i mŒlet och vill absolut inte heller sticka under stol meddet. Vi har samma rŠttighet som de andra att gšra vŒr ršst hšrd. Men den tyskaradion har inte fšr vana - det har ni sjŠlva kanske redan konstaterat - att nušveršsa er med sŒ kallad propaganda. Denna metod šverlŒter vi Œt vŒra fiender,vilka flitigt gšr bruk av de fantasifulla pŒhittens fšrmenta privilegium och falskarapporter som motbevisats redan nŠsta dag. SŒ flitigt, att den egna allmŠnnaopinionen redan opponerar sig drastiskt mot det, precis som ni strax kommer attfŒ hšra.
Vi kommer, framfšr allt inom ramarna fšr dessa tidsmŠssigt begrŠnsadesŠndningar, att inskrŠnka oss till att i saklig form ge er en šverblick šver dagensviktigaste hŠndelser runtom i hela vŠrlden. Vi Šr švertygade om att ni sjŠlvakommer att bekrŠfta vŒr goda vilja nŠr ni, vilket vi hoppas, inte bara idag utangŒng pŒ gŒng vid denna tidpunkt stŠller in er mottagare pŒ frekvens - - rikssŠndareKšnigsberg pŒ svenska.
Vi Šr švertygade om att vi kommer att fšrstŒ varandra. Vi hŠlsar er och inledervŒr sŠndning."
http://www.adlibris.se/product.aspx?isbn=9185377945&s=1